North County San Diego has a wonderful selection of lights to view and get into the Holiday spirit!
Carlsbad | Oceanside | Encinitas | Del Mar
Holidays at LEGOLAND. Live entertainment, twinkling lights and festive cheer await. Nightly tree lightings of the Park's LEGO Christmas tree decked with spectacular lights and LEGO ornaments. Nov. 20–Jan. 2. Activities included with admission. One LEGOLAND Dr., Carlsbad. www.LEGOLAND.com.
Botanic Wonderland. Festive lights, music, kids' activities, crafts and more. Dec. 4–5, 10–23, 26–30, 5–9 pm. $10–$18. San Diego Botanic Garden, 230 Quail Gardens Dr., Encinitas. www.sdbgarden.org
Snow N Glow Holiday Festival. "Holidays in Your Car" 1.5 mile drive-thru light spectacular or stroll through Winter Wonderland with over 1 million glowing lights. Select nights, Dec. 4-Jan. 2. $12.99–$45. Del Mar Fairgrounds, 2260 Jimmy Durante Blvd., Del Mar. www.snownglow.com/delmar
CARLSBAD, 92009, 92011, 92024
7607 Romeria St. The "Carlsbad Christmas House" where it snows. Home of Canterbury Gardens' giant Santa. Walk around to see Surfin' Santa, Snoopy & Friends ice skating, Island of Misfit Toys and animals frolicking in the waterfall. Food drive donations accepted. Dec. 5–26. www.carlsbadchristmashouse.com
6646 Elegant Tern Pl. Free Santa's mailbox and treats for the kids nightly. Santa writes back a personalized letter to each child. Santa visits on Dec. 18 with crafts, music, hot cocoa and cotton candy. Dec. 3–Jan. 3.
3520 Corte Ramon. Lights and characters coordinated to music, different theme each year. Accepting food donations for local food shelters.
6774 Vermarine Ct. Light show synchronized to music. Dec. 1–31.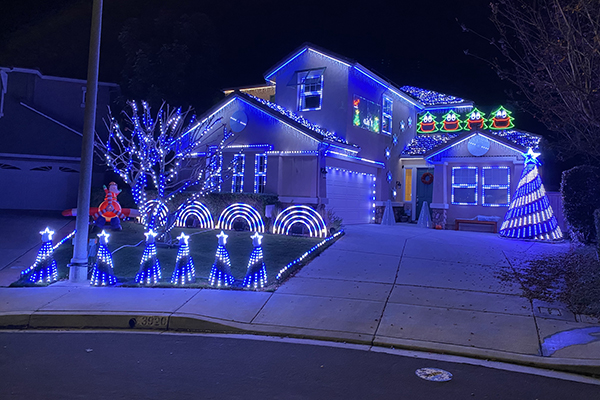 3920 Rockfield Ct. Musical light show with 20,000 lights and show selector where visitor can pick from over 20 songs. Nov. 28–Jan. 2.
2695 Medford Ct. Amazing light show. Partnering with the local Toys for Tots for toy donations. Dec. 1-25.
OCEANSIDE, 92056, 92057
5279 Willow Walk Rd. Over 35,000 lights create a Christmas light show synchronized to music featuring mega board and arches. Santa visits and food drive for San Diego Food Bank on Dec. 10–11, 5:30–8 pm. Dec. 1–31.
2329 Snead Dr. Lights, nativity scene, animated elves and Santa Village light display. Walk up to see Christmas scene in garage. Dec. 7–31.
ESCONDIDO 92025
340 N. Escondido Blvd. Peace Family Light Show at the California Center for the Arts, as featured on ABC's "The Great Christmas Light Fight." Musical lights and new interactive Harry Potter display. Nov. 27–Jan 2.
www.peacefamilylights.com
Northern Lights. California Center for the Arts, Escondido will be transformed into a fantasy of light. After sunset, enjoy tunnels of twinkling lights, LED Christmas trees, light shows and a Hogwarts Platform 9¾-themed light extravaganza at the historical train depot. Free. Nov. 26–Jan. 3. 340 N. Escondido Blvd. www.artcenter.org
Wild Holidays at the Safari Park offers a wild wonderland with twinkling lights, holiday music and seasonal treats. Weekends in Dec. & Dec. 26–Jan. 2. 15500 San Pasqual Valley Rd. www.sdzwa.org
SAN MARCOS, 92078
2516 Rockdale Pl. Known as "The Griswold's," over 21,000 lights decorate this home and entire cul-de-sac. Come enjoy a candy cane and check out the lights. Wear your sunglasses! Nov. 27–Jan. 2, 5:00–9:30 pm.
251 Glendale Ave. A 'classic' look with warm white lights, garland and clean lines with classic Christmas tunes on 89.9 FM. Dec. 1–25.
Information shared from San Diego Family Magazine